Septic Services in Eau Claire
& Chippewa Falls
We service all types of septic systems. Countryside Septic Service is licensed and certified through the State of Wisconsin, and all of our services comply with DNR and EPA rules and regulations. We provide clean, professional service from start to finish utilizing well maintained equipment and cleanup procedures.
Residential Septic System Services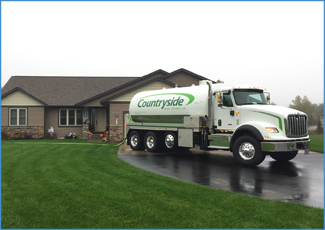 Wisconsin homeowners are required to have their septic systems inspected by a licensed professional a minimum of once every three years. Most septic tanks need to be pumped more frequently. Your tank must be pumped when the combined sludge and scum volume equals 1/3 or more of the septic tank volume. A maintenance form is then required to be submitted to Chippewa or Eau Claire County.
< FIND OUT HOW OFTEN YOUR TANK SHOULD BE SERVICED >
< VIEW TYPES OF SEPTIC SYSTEMS >
At Countryside Septic Service we will:
Locate and dig up septic covers.
Pump and clean septic tank and dose chamber. Our truck has over 200 feet of hose to eliminate driving on your lawn.
Clean septic tank filter.
Switch to an alternate drain field or mound.
Completely inspect your system including baffles, plumbing, drainfield, mound, etc.
Test the pump, floats, alarm, and plumbing.
Clean entire job site when complete and repair any misplaced dirt or sod.
Residential & Commercial Holding Tank Service
Holding tanks are found where suitable soil for drain fields is not present. Like septic systems, holding tank systems need to be pumped out regularly. The frequency of pumping out holding tanks will depend on the amount of water used within a household. An average household of two to four people will require a pump-out every two to five months.
Pumping and cleaning of holding tanks
To serve you faster, we have a 5000 gallon tanker to accommodate large and small jobs
Reasonable rates and reliable service
Commercial & Industrial Services
We work in a clean, professional manner and follow industry protocols on every job. We minimize our presence at your business and work around your operating hours.
High volume waste removal
Restaurant grease trap maintenance
Municipal waste hauling
Restaurant Grease Trap Maintenance
Grease traps are no place to cut corners, especially when you're choosing a service provider. Improper grease trap pumping, cleaning, and maintenance can create huge problems for your business. With Countryside Septic's professional grease trap services, you can rest easy knowing you are partnering with one of the most reliable and environmentally-conscience companies in the Eau Claire area
CONTACT US FOR COMMERCIAL SEPTIC SERVICES TODAY
"We needed a septic company that could do more than just transport industrial waste water. We needed a partner who would deliver on irregular pickup requirements, pickup loads multiple times a week, perform specialty projects, contact additional tradesmen as needed to work in a remote environment, and do it all cost effectively! We found the best with Countryside Septic Service and hope to continue our partnership into the years ahead."

– Michael Wieseler
Apogee Environmental